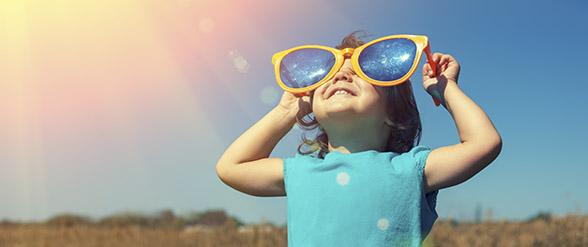 Ultra-violet (UV) rays can damage your eyes and increase your risk of cataracts and cancers of the eye. Because UV rays can be permanently harmful, sunglasses with UV protection are recommended for everyone, but especially for those that work outside or already have existing eye problems.
While many have heard of the dangers of skin cancer, few people know that various skin cancers (basal cell carcinoma, squamous cell carcinomas, melanomas) can occur on the eyelids, on the surface of the eye and even inside of the eye. In fact, 5-10% of skin cancer affects the eyelids. Our eyes are the only internal tissue of our body that are exposed to sunlight. Without proper sunglasses, nearly 40% of the rays get into our eyes even when we're not directly exposed. Ocular melanoma cancer is the most common type of eye cancer in adults and can cause permanent vision loss. Around 94% of people are affected with premature aging signs near the eye regions. This is also caused by exposure to intense sun rays that make your skin dry. This affects the skin texture and makes it more prone to get wrinkles and fine lines.
For these reasons, it is essential to protect your eyes from harmful UV rays by regularly wearing protective sunglasses. Sunglasses should be 100% UV-absorbent for UVA and UVB or be labeled UV400. To provide additional UV protection, also wear a wide-brimmed hat, especially when during the mid-day sun or if you will be outdoors for a prolonged period of time.
Remember, prolonged UV exposure can occur outside, but also in tanning beds. People who are fair-skinned, Caucasians, have light-colored eyes, smoke, or have had a family history of skin cancer are particularly at risk and sensitive to UV rays.
Parents should also be extra cautious with their children's activities such as swimming or skiing because the sun is reflected off the water, snow, or ice and heavy UV exposure can occur without even realizing it.
Regular dilated eye exams, especially in high risk patients, can provide early warnings, diagnosis, and treatment of the aforementioned eye diseases and prevent or treat these eye diseases related to UV exposure.
For more information check out: Think About Your Eyes.